Perhaps you are not convinced on going with a traditional diamond engagement ring and you are looking for something a bit more unique and personable.
More and more design driven and artistic brides-to-be are choosing colored engagement rings for their uniqueness, design aesthetics & affordability.
However, with the countless combinations of center stone shapes, metal colors, setting designs, low basket vs high basket options, it can be a bit of overwhelming to know where to begin.
To help you narrow down your search, here are some of the most popular alternate engagement ring designs we have made in 2022.
Featuring an Oval Cut Teal Sapphire, striking eagle claw prongs in 18K White Gold, and nestled between two trios of round and pear shape side diamonds. Shop our Clara setting if you love a vintage meets modern feel.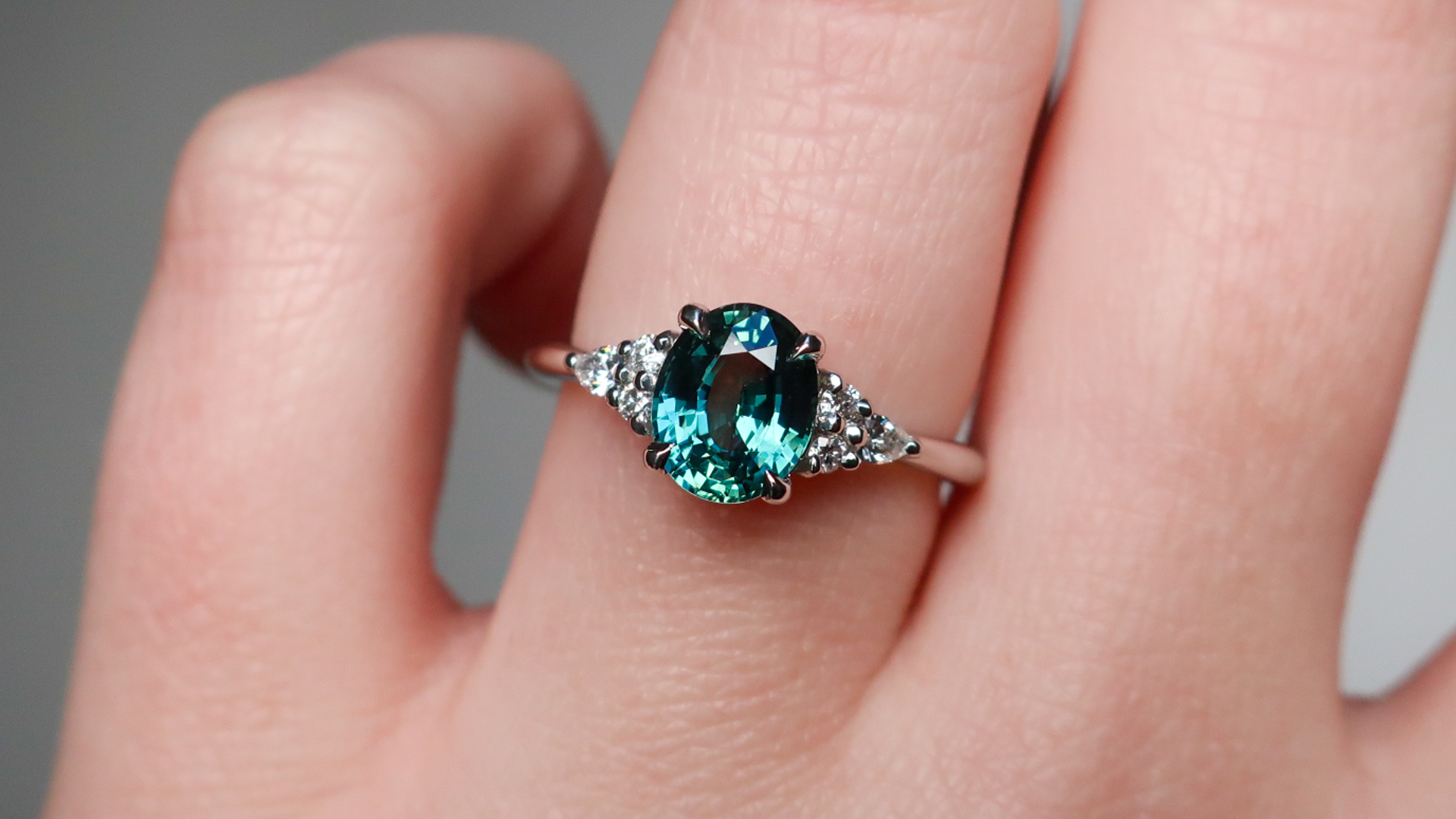 A gorgeous Cushion Cut Blue Sapphire set in 18K White Gold, featuring a cathedral basket with sparkling pavé set diamond band. Shop our Victoria setting here if you're after a timeless, elegant style.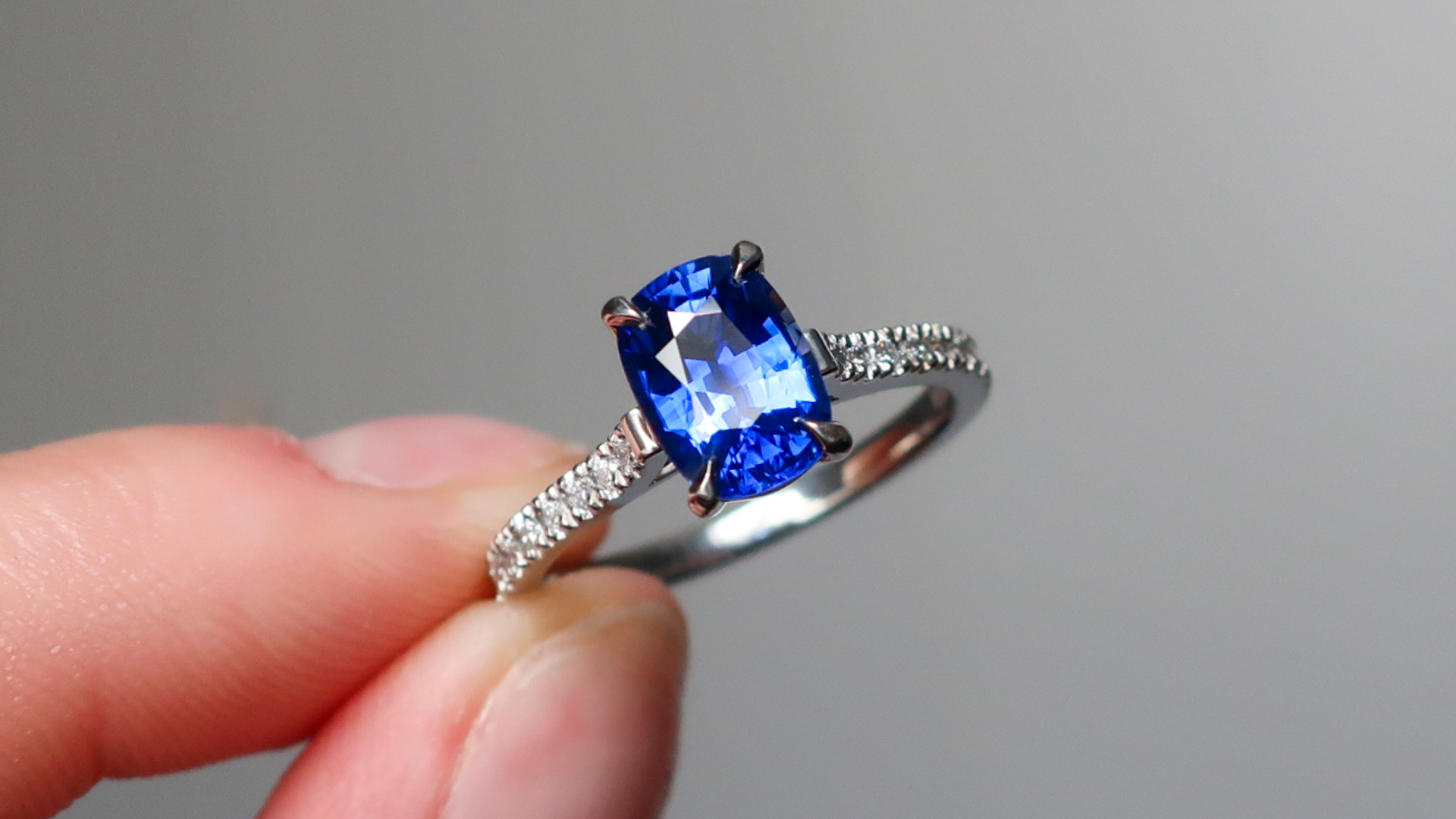 Known for their vibrant bi-color hues, Parti Teal Sapphires feature a high saturation of greens and yellow. This stunning Emerald Cut Parti Teal Sapphire is set amongst two matching emerald cut baguette side diamonds in 18K Yellow Gold. Shop Parti Teal Sapphires here if you love this distinctive color.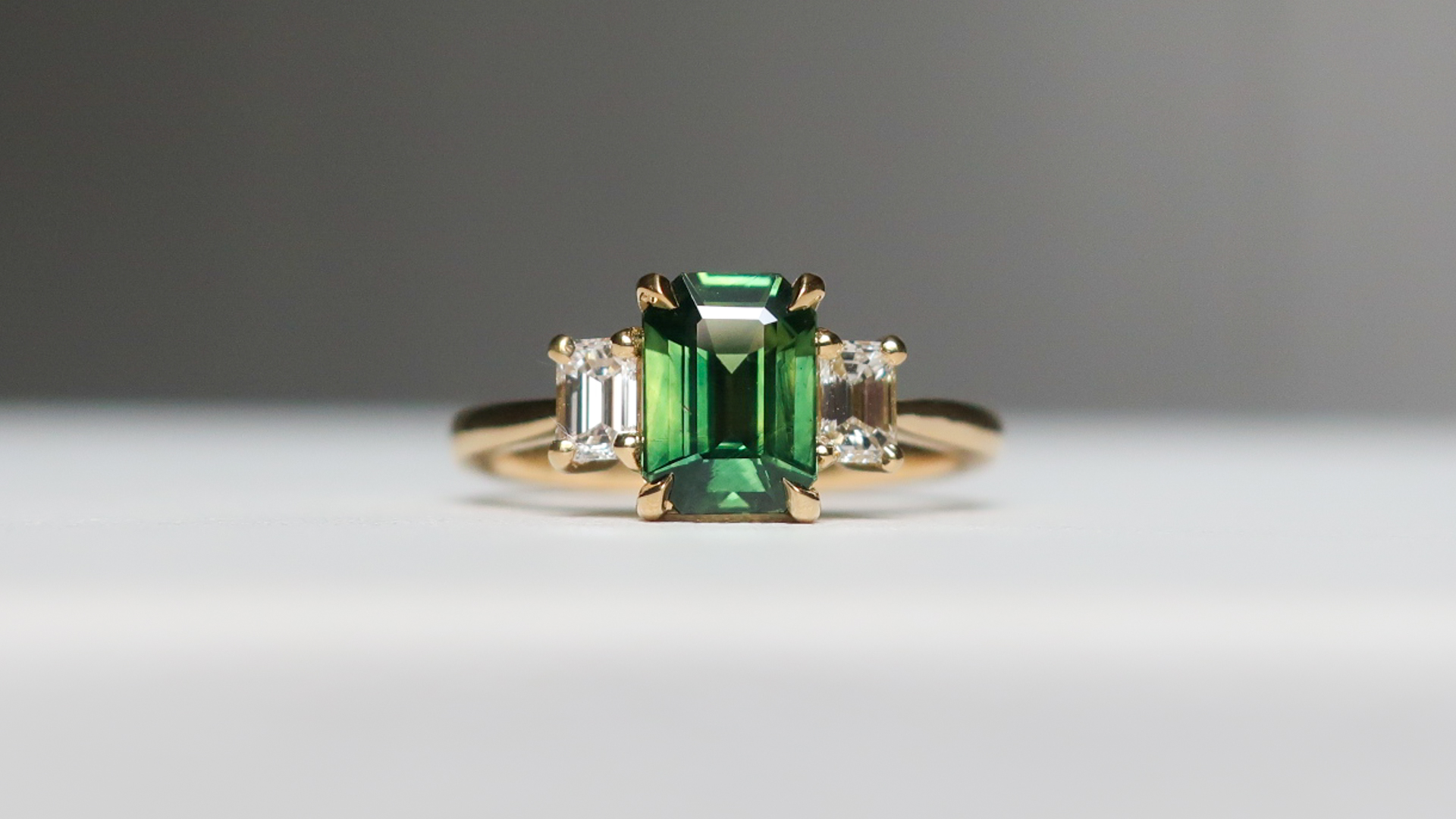 4. Art Deco Inspired Designs
Featuring an Emerald Cut Teal Sapphire nestled between trapezoid and tapered baguette side diamonds, with architectural inspired grandeur and elegance. Shop our Ava setting if you're a lover of a bold, eye-catching style.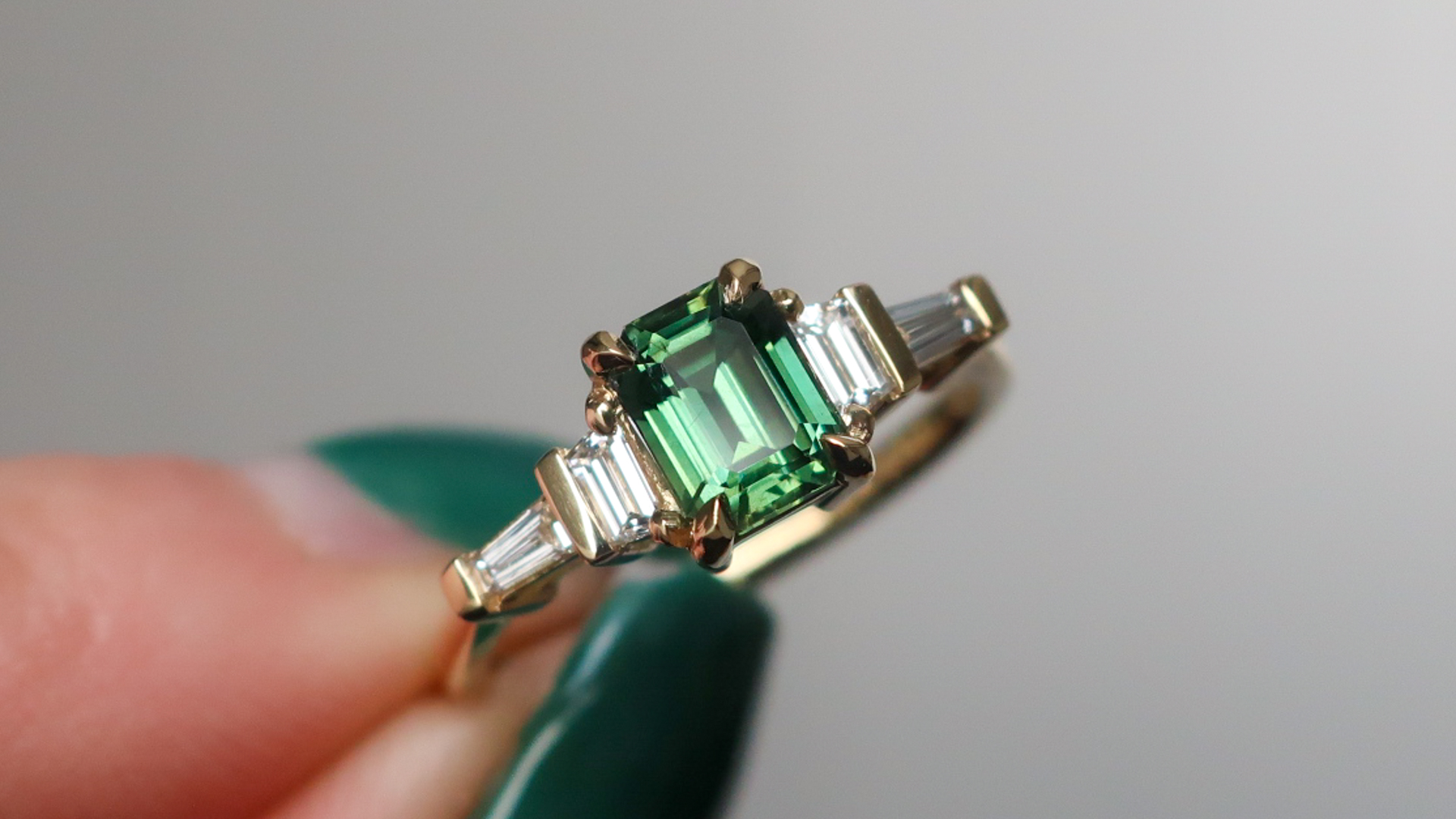 5. Three Stone Pear Shape
A twist on a classic three stone setting, Pear Shape side diamonds are an elegant addition to any center stone shape, elongating the finger and drawing the eye to your sapphire. Shop our best selling Faye setting for a style beloved by all.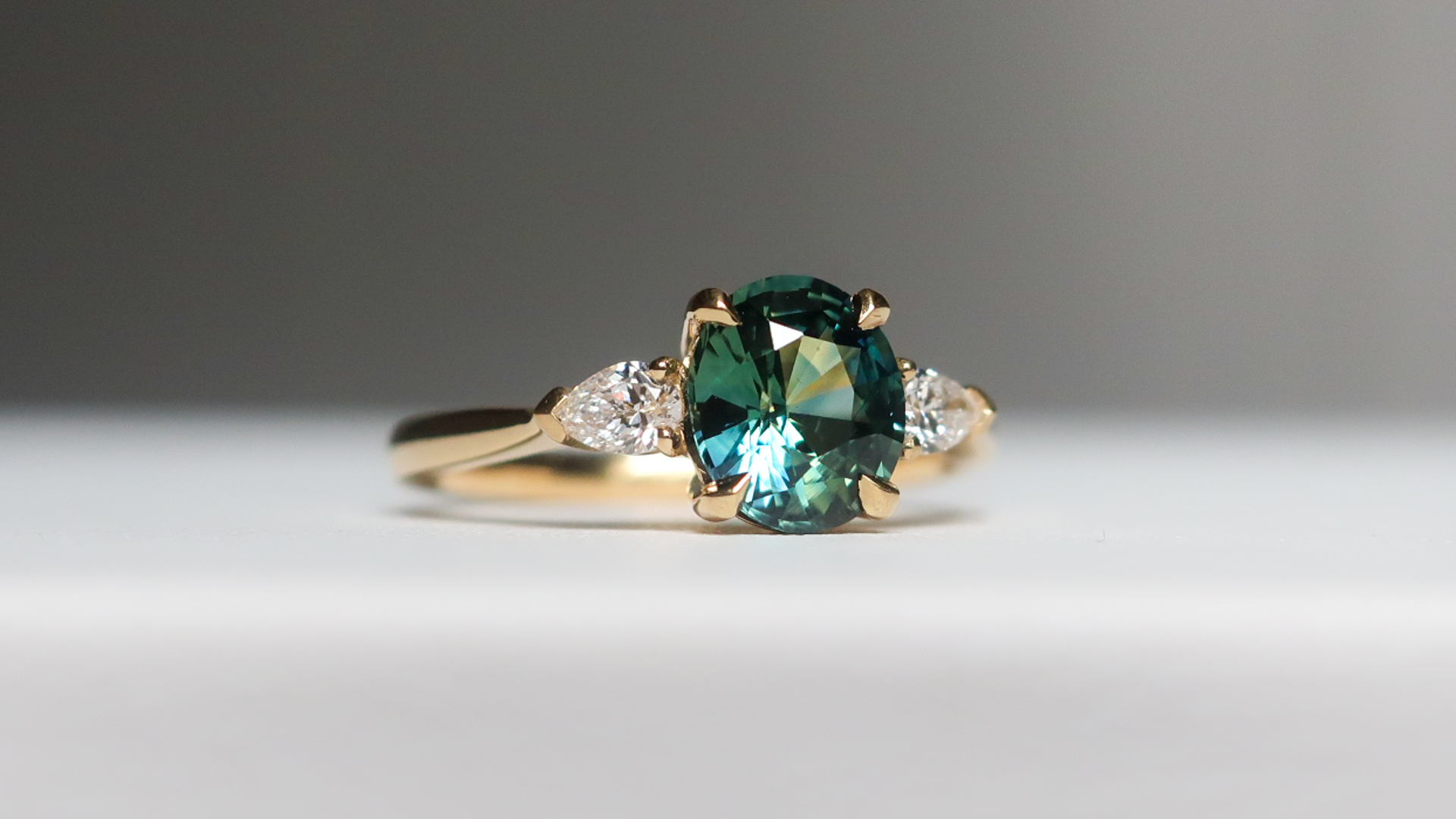 6. Curved & Pointed Wedding Bands
A timeless Oval Teal Cluster engagement ring matched with a custom fit pointed plain wedding band in 18K White Gold. This stunning wedding band pairing creates dimension to your ring while letting your engagement ring take center stage. All of our wedding bands can be custom fit to your engagement ring, shop the range here to see which styles we recommend for your setting.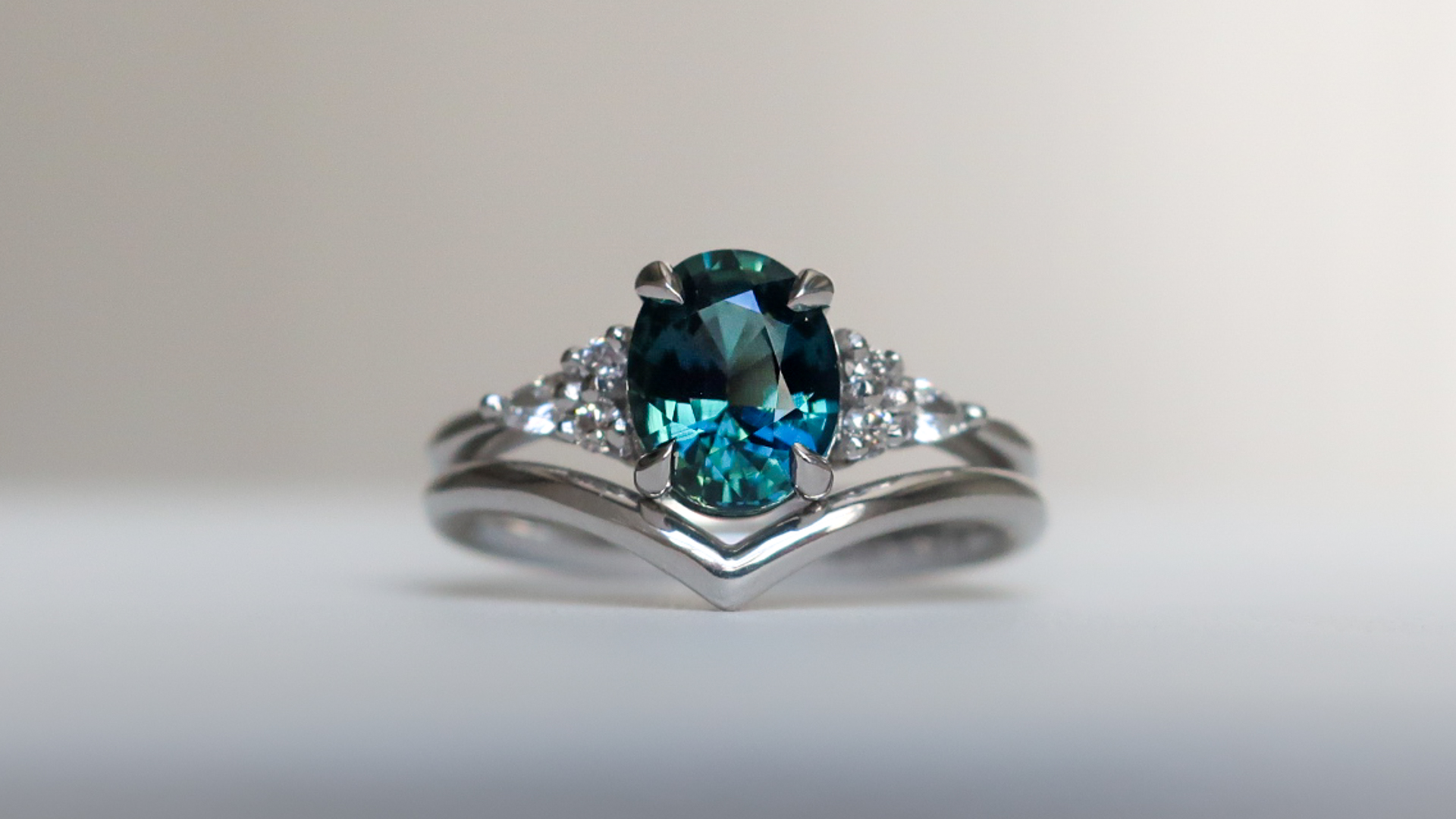 In true royal fashion, Oval Halo designs continue to reign a timeless classic. Featured here is a striking Oval Teal Sapphire set in 18K Yellow Gold, encrusted with a halo of diamonds and plain band. Shop our Zoe setting if you a love a ring that will sparkle at every angle.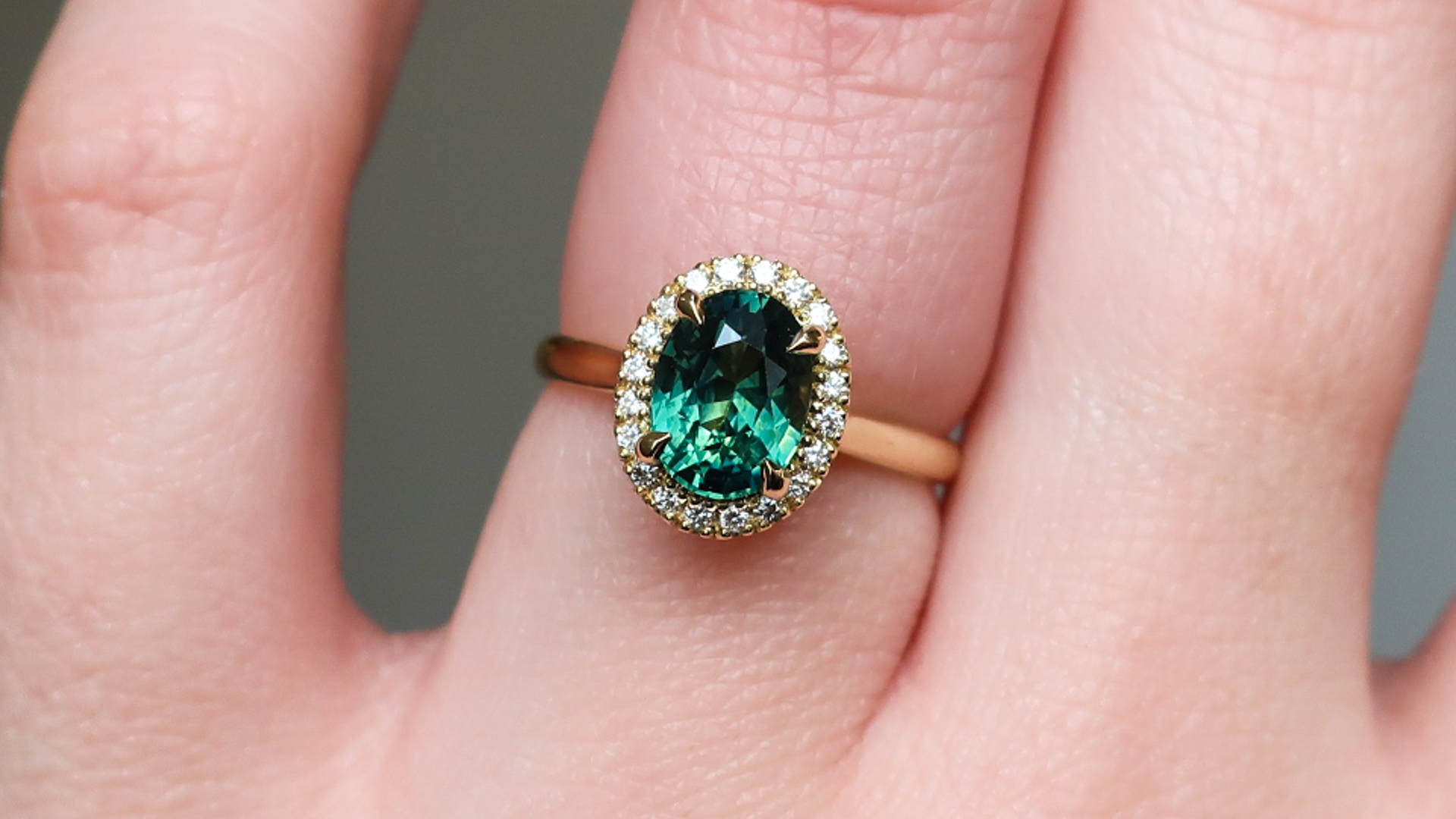 A beautifully elongated shape, Oval Cuts are perfect for elongating the hand, especially when set in a solitaire. This classic design will truly never go out of style, and suits all wedding band designs. Seen here is a gorgeous Oval Cut Peach Sapphire set in 18K Yellow Gold. Shop our Leah design with Oval sapphires here, for a lover of timeless elegance.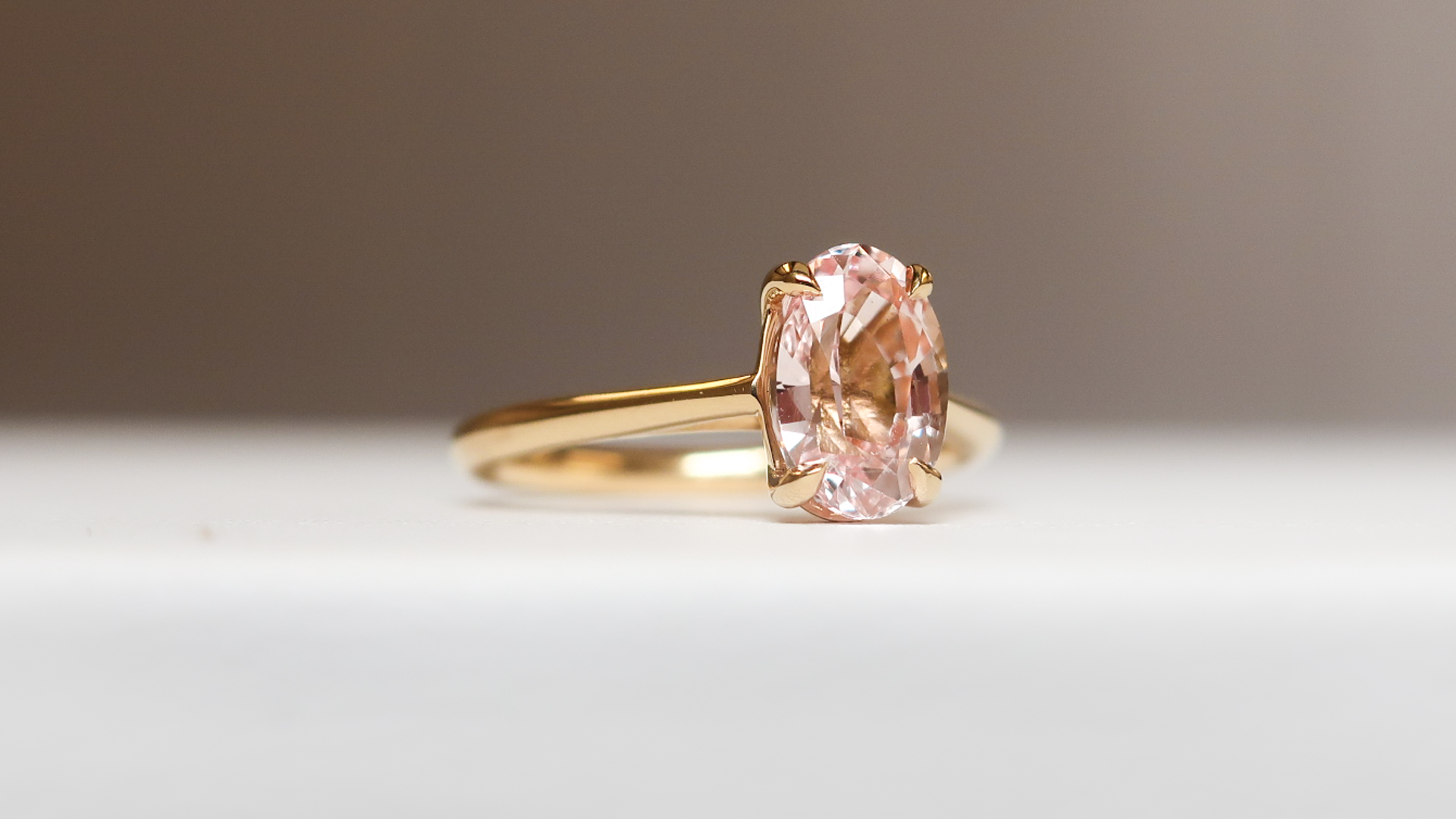 If you love a three stone design with a twist, try a fancy shape side diamond. This gorgeous Emerald Cut Teal Sapphire is set in 18K White Gold with two kite shape side diamonds. Shop our Kira design here, for those wanting something totally unique.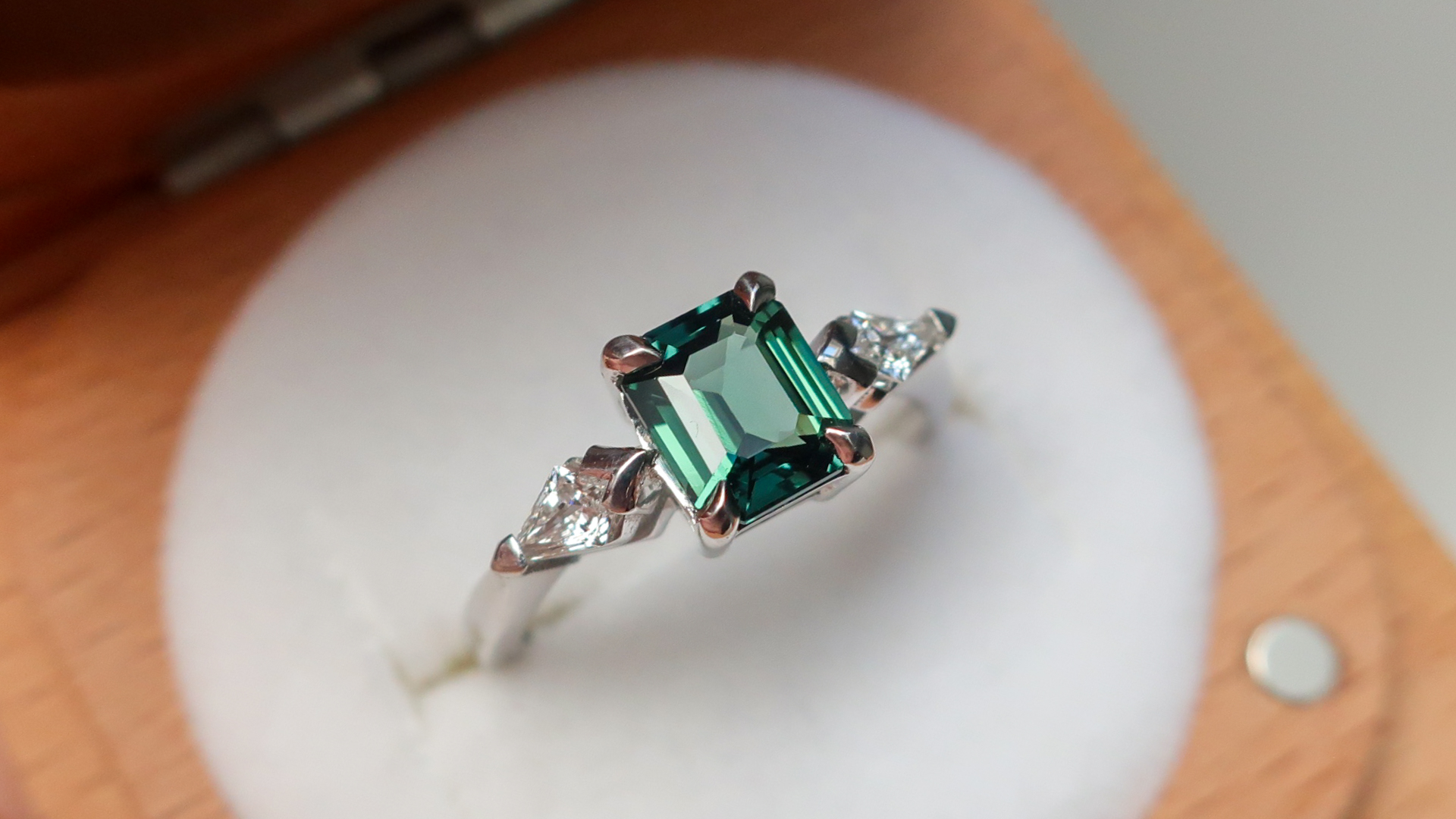 10. Floral Inspired Designs
Inspired by nature, this stunning Round Blue Sapphire is set with a cluster of marquise side diamonds, enhancing sparkle and radiance. Shop our Flora design here if you love a floral design.