Considering the fact that the engagement ring is worn daily, it is important to look at overall lifestyle while picking an engagement ring design.
For example, if you have an active lifestyle then it would be worth considering an engagement ring where the center stone is set low so it doesn't get caught on things. On the other hand, if you have a less active lifestyle then a medium – high set engagement ring might be a more suitable option.
If you are wondering what's the basic difference between a low and a high set setting, one is simply higher than the other.
Low basket engagement rings are designed to sit flush with your skin leaving minimal space between the ring and the finger. Whereas high set engagement rings have center stone that rests slightly above the finger.
While high set ring setting designs can put focus on the center stone, it may be best to go for a low-profile ring design in case your partner has an active lifestyle.
Low Set Sapphire Engagement Rings
Pros
- Suitable for people with an active lifestyle, a low basket setting is less likely to get caught on things.
- Perfect for those who are more reserved or those who appreciate sleek and minimalist design.
Cons
- You can't flush fit a round wedding band if you go for a low set engagement ring (Can also be a positive in case you are a fan of tiara shaped matching contoured wedding bands!)
TIP
Many ring designs are built for center stone to be set higher by default, if you are considering a low set setting, always ask if the center stone can be set low in a specific ring design.
Sapphires come in unique cuts and can vary in height. To ensure sapphire rests as low as possible, always consider a custom designed setting which is built around the dimensions of the chosen sapphire.
High Set Sapphire Engagement Rings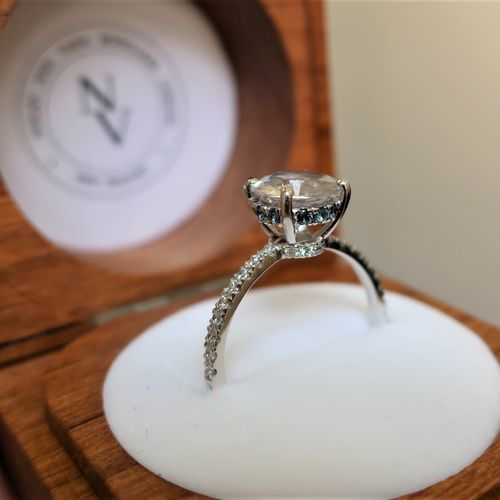 Pros
- A higher profile will make the sapphire stand out.
- You can flush fit a round wedding band.
Cons
- More prone to occasional knocks and getting caught on things.
To conclude, both setting styles look gorgeous and have their own appeal. It may be worth going for something that reflects your partner's personality and is suitable for her lifestyle.